$80,000-added AustrianRHA Futurity & NRHA Show: August 21-24, 2019 in Wiener Neustadt
Reiner should save this date: the $ 80,000-added AustrianRHA Futuriry & NRHA Show is scheduled from August 21 until 24, 2019 – as always at the facility of H&D Schulz Quarter Horses in Wiener Neustadt, Austria. The Austrian Futurity has been among the top 25 reining events worldwide for years, and placed fourth in Europe in 2018 according to the latest NRHA report. Once more, the AustrianRHA Futurity offers a purse of $10,000 each for the Level 4 Open Futurity Champion both of the 3-year-old horses and the 4-year-old horses. The AustrianRHA Futurity is open to all 3- and 4-year-old horses. There are four Levels in the 3-year-old Futurity Open and three in the Non Pro. All classes are NRHA approved. Besides the Futurity, there is an NRHA Ancillary Show.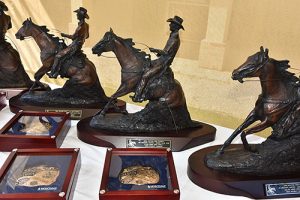 The stallion service auction in favour of the AustrianRHA Futurity has already started well. Breedings to fine stallions are available for 50 per cent of the normal fee. All stallions are presented here: http://arha.at/neuigkeiten/deckhengstsprungaktion-2019/
For further information please contact:
Gerda Langer – ARHA Team, ARHA – Austrian Reining Horse Association, A – 2392 Sulz im Wienerwald, Raitlstraße 154, phone +43-2238-8484 cell phone +43-664-4534726, fax +43-2238-8545, office@nrha.at, www.nrha.at, www.futurity.at
The National Reining Horse Association is not responsible for information contained in this press release. Please contact the author or submitting organization for further information, requests or questions.