Cremona, May 21—The 2020 Quarter Dream €96.000,00-added IRHA/IRHBA/NRHA Non Pro Futurity provided tons of excitement on Friday night in Cremona, Italy. Second to last to go, Fabio De Iulio and his own Gunnaroostyah (NRHA Four Million Sire Gunnatrashya x Del Cielo Shining), bred by Carlo Orsi, scored a 214.5 to take the €51.000,00-added Level 4 Non Pro Championship.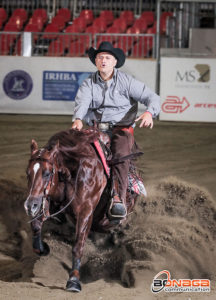 "I purchased this horse from Rabboni Quarter Horses, who had purchased him in the U.S., after looking at quite a few prospects with [Italian professionals] Pierluigi Chioldo and Mirko Piazzi," said a smiling De Iulio fresh off his win. "He was a little green but, thanks to his talent and big heart, he was quick to grow and learn. Tonight, I didn't show him well at all, but this is truly the cherry on the cake: After 20 years of competing, I finally managed to win this title we all crave. In the first go, I rode him better, and aside from a stop, the rest went well and we made it to the Finals. Tonight, considering the scores before me, I tried to focus on his strong maneuvers—stops and spins— and to stay out of the penalty box. I have to thank my trainer Pierluigi Chioldo for the work done with him and for the help here during this Futurity."
The L4 Reserve Championship, a point behind the winners, went to Gina Schumacher and Bubbles On Ice (SG Frozen Enterprise x Shining Bubbles), a gelding owned by CS Ranch Management SA, bred by Toyon Ranch LLC.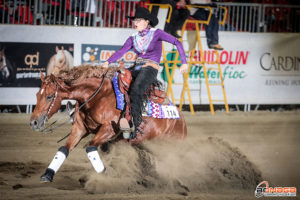 Sweeping the €26.250,00-added L3, €11.250,00-added L2, and the €7.500,00-added L2 was Valentina Monti with her Valentina Baby Pale (NRHA Two Million Dollar Sire Pale Face Dunnit x OT Luky Highway Baby) between the reins. It was truly an emotional night for Monti who bred, raised, and trained her mare AKA "Peppina" and qualified her for all four levels. "It's a dream come true after a life of sacrifice," said Monti, a biologist. "She gave me all the energy she had; pattern 12 is a tough and long one. She was born at Roberto Cuoghi's facility and is out of a mare I own and am actually showing here at the Italian Championship Finals. I raised Peppina and trained her until the three-month lockdown when, thankfully, [Italian professional] Pierluigi Chioldo had her in training and managed to keep her happy and fit. When things opened up she came back home and I continued the training with the Futurity being our goal. This result is a dream come true and I feel truly blessed."
Taking the Reserve L3 and 2 Championships with a 213 was Martina Baldelli riding Frozen Taco (Elvis Peppys Taco x Docs Lil Sailor), owned and bred by Christian Baldelli.
Vittorio De Iulio and Mr Magic Chex (ARC Magic Enterprise x Miss America Chex) owned by Fabio De Iulio and bred by Angelucci QH, after winning the Non Pro qualifier, scored a 211.5 in the Finals settling for the L1 Reserve Championship.
 The 2020 Arcese/MS Diamonds TX €204.000,00-added IRHA/IRHBA/NRHA Open Futurity Finals will close the event which is held behind closed doors. Section 1 starts at 3 p.m. / Section 2 at 7 p.m. TO VIEW AND DOWNLOAD THE ONLINE DRAW, PLEASE CLICK HERE
Competition will start at 9 a.m. on Saturday, May 22, with the Matteo Bonzano FISE Non Pro Italian Championship Final, the NRHA Non Pro, and the 2020 Elementa FISE Italian Championship Finals.
For those that would like to follow the action live, see below:
Livescore and full results: https://www.showmanager.info/Eventliste.aspx?turnierID=1024
Livestream: https://iframe.dacast.com/live/e2eec26b-7144-f2c7-b0df-0153dcd0c24b/700a9c79-2f1c-cf5b-44b3-6ba65280613c
For further information: www.itrha.com
Photos by Bonaga Communication
IRHA/IRHBA/NRHA Futurity Media Contact:
Simona Diale/International Horse Press
internationalhorsepress@gmail.com