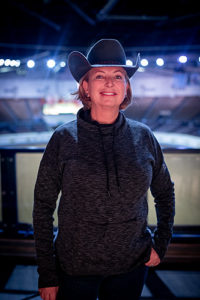 For immediate release – December 20, 2019 – Oklahoma City, OK –The National Reining Horse Association (NRHA) is proud to congratulate longtime reiner Francesca Sternberg for being awarded the British Equestrian Federation Medal of Honour today at the Olympia International Horse Show in London. One of the highest accolades given by the British Equestrian Federation, the award recognizes Sternberg's passion for equestrian sports in the United Kingdom and her achievements in the sport of reining.
"I would never have imagined the British Equestrian Federation would recognize a reiner," Sternberg shared. "In the UK, we're highly traditional—everything is eventing, show jumping, and dressage. To be recognized by my peers in my own country is quite overwhelming."
Originally competing in top-level eventing and show jumping, Sternberg first became an NRHA member in 1995. Since then, she's earned more than $418,500 in NRHA Lifetime Earnings (LTE) and experienced success at the highest levels, competing at five FEI World Equestrian Games and making numerous trips to the AQHA World Championship Show, NRHA Futurity, and NRHA Derby in Oklahoma City.
"The reining horse has taken me to places I would never have gone and allowed me to meet people I would never have met," Sternberg revealed. "Although the accomplishments in the arena are hugely important, it's not really all about that. It's about the journey and the incredible experiences en route."
In light of this latest honor, Sternberg credits the family she's found within the sport of reining for helping her achieve such success.
"The heart of NRHA is a combination of the horse and the community," Sternberg continued. "I haven't found that in any other equestrian group. Everybody can be competitive, or just enjoy the ride. It's a team effort."
Sternberg's two children, Tabitha Sternberg Allen and George Sternberg Allen, both share their mother's passion for reining.
"I see the future containing exactly what the past has, but the difference is, I won't be sitting in the saddle as much," Sternberg laughed. "I've been beaten by both of my children in the past few months, and that was far better than anything I could win."