It was the 13th AustrianRHA Futurity & NRHA Show, but the host Helmut Schulz and his team have probably never received so many words of praise and thanks before. Four days of outstanding Reining sports with 269 horses from 12 nations and 828 entries culminated in a grand final on Saturday evening, which even a half hour thunderstorm could not harm. "It was pouring down here, but nevertheless the atmosphere was great", said Helmut Schulz. "People were thrilled. It is something special when you stand in the mud after pouring rain, and one after the other comes, congratulates you and thanks you. Thanks are due to our entire team, which has always been there with all its heart over the years. Nobody is just doing their job here."
In fact, the atmosphere in Wiener Neustadt was once again extraordinary. Statements like "This is the most beautiful tournament in Europe", "We always feel at home here". Or "A great team – they are like family here", reflect the atmosphere at the AustrianRHA Futurity 2019. Already at the traditional Welcome Party the crowd was bigger than ever before.
Futurity Champion L4 Open, 3-year-old horses: Dominik Reminder & BMS Walla Getcha Gun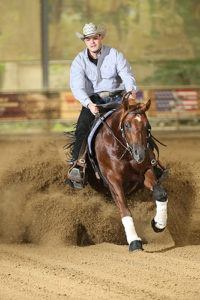 With a beautiful, fast ride, which ended in three outstanding stops, Dominik Reminder and Martin Bachmann's BMS Walla Getcha Gun (Walla Whiz Crome x Ally Get Your Gun) became AustrianRHA Futurity Champion title Open L4 of the three-year-old horses. The stallion bred by Barbara Seibold, had already scored the best score in the go round and scored a 223 in the final. "Walla Getcha Gun is simply a great horse," said Reminder, who was already 2018 Open Futurity Champion in the four-year-old class. "We bought him from Marina Becker three months ago. That was his first show. He was already very honest in the go round and all with me. In the final I didn't want to push him – I just wanted to see what he could do. It was just fun to show him."
Reserve Champion L4 was Manuel Cortesi aboard AR Vintage Dream (A Sparkling Vintage x Sweet Candy Dream) owned by Elisabetta Raviola scoring a 221. 27-year-old Cortesi, who was among others FEI European Champion Young Rider and IRHA Futurity Champion Non Pro, won the AustrianRHA Futurity Level 3 Open in 2015 and was Reserve Champion L4 Open last year.
Klaus Lechner wins Intermediate Open Futurity, 3--year-old horses
The Intermediate Open Futurity Championship (and third place in L4) was claimed by Klaus Lechner aboard Hollys Shiny Shine (Shine Chic Shine x Gunnin In Hollywood), who scored a 220.5 for breeder and owner Richard Hagl. "I got him in November last year," says Klaus Lechner. "He is a very nice horse that is easy to train. I showed him last month for the first time, and he scored a 70 although we had penalties. So Richard decided to let me have the gelding for this Open Futurity. The horse got better every day here and had a great run in the final."
The Reserve Futurity Championship Int. Open went to Pierluigi Fabbri aboard Cristian Cecini's paint horse mare CC Little Red Gun (One Gun x SM Lil Jabalina) who scored a 219.5.
Limited Open Futurity Champion, 3-year-old horses: Nicola Cordioli & Late Little Whiz
Limited Open Futurity Champion was the Italian Nicola Cordioli aboard Andrea Pengo's Late Little Whiz (Walla Walla Whiz x Late Little Jaba). With a score of 216.5, the two of them took the lead in a field of 23. Cordioli, who was 2014 AustrianRHA Futurity Champion Open and Intermediate Open, bred the stallion himself. "I never expected to win, because Late Little Whiz was still pretty green, and it gets harder every year to reach the final here," says Cordioli. "But he felt good from the start and was relaxed and very focused. His mother Late Little Jaba was already Open Futurity Champion here. All in all it was a pleasure to be here in Wiener Neustadt again. People are incredibly nice, so that everyone feels at home immediately."
Reserve Champion was the Austrian Valentina Sagmeister, who rode Whiz Ninja Orima (Laredo Whiz x Jacflame ) for owner and breeder Helmut Schulz to a 215.5. Sagmeister was 2017 AustrianRHA Futurity Champion Int. Open.
Futurity Champion Open L1, 3-year-old horses: Saul Luca Bruzzi & Danger Trash
The Level 1 Open Futurity was won by Italian Saul Luca Bruzzi aboard Danger Trash (Gunatrashya x Holiday With Peppy), a mare owned by Societa Agricola CD Horses SR and bred by Emanuele Colleoni. The two scored a 212. With a 211.5, the Reserve Futurity Championship went to Austrian Gabriele Wendlinger aboard her gelding Gunfighting Smurf (Gunners Smokin Oak x A Fancy Misty Glo), who was bred by Sonja Mammel.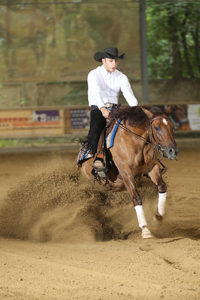 Futurity Non Pro L4, 3-year-old horses: Carlo Ambrosini & My Smart Show
Also in the Non Pro Final L4 of the 3-year-old horses, the best of the go round won: Carlo Ambrosini aboard his stallion My Smart Show (My Showbiz Whiz x MS Linton Lena). It was the third ARHA Futurity Champion title for the 20-year-old Italian after winning the Non Pro and Int. Non Pro in the 2018 and the L1 Non Pro in 2015. Carlo was fourth at the FEI World Championship 2017 in Givrins, NRHA European Futurity Champion L4 Non Pro 2018 and won the IRHA Derby Non Pro L4 this year.
Franziska Wallner claims Int. Non Pro and L1 Championship!
Reserve Futurity Champion Non Pro L4 and Intermediate Non Pro Futurity Champion was Franziska Wallner with her Shes Jerseylicious (Yellow Jersey x Shiney Enterprise). The Futurity Championship was another highlight in this show season for the 18-year-old from Germany. With the mare bred by McQuay Stables she became not only Intermediate Non Pro but also L1 Non Pro Futurity Champion. Franziska was finalist in the NRHA European Derby L4 and in the NRHA Breeders Derby and IRHA Derby Champion Non Pro L1 in 2019. "Our victory here is simply incredible", Franziska was pleased at the award ceremony. "We bought the mare last year at the Legacy Sale in USA. I was already very satisfied with her after the good go round with 212.5. She showed all her heart in the L1 final. And then a 217.5 in the Intermediate Non Pro Final."
Reserve Futurity Champion Int. Non Pro became with a 214 the Dutch Sharon de Groot with Tinsel Whizington (Tinsel Jac x Conquistador Sis). In the L1 two riders shared the Futurity Reserve Championship: Luca Ottaviani with the mare Im A Snappy Dunit (LMC Im Topsail Dunit x Gingersnapple) bred by Franco Cozza and Alicja Olejnik with her mare CSG Lean With Gun (Colonels Shining Gun x Fly Flashy Whiz).
Manuel Cortesi & PC Tinsel Whiz become AustrianRHA Futurity Open Champion L4, 4-year-old horses
This final of the AustrianRHA Futurity Champion Open 4-year-old horses will not be forgotten for a long time. What fantastic runs these were! In the end it, was Manuel Cortesi with PC Tinsel Whiz (Hollywoodstinseltown x PC Sliderina Whiz) owned by Az Agr Cortesi Piero, who became Futurity Champion Open L4 – with top score 229! Cortesi was third at the 2018 AustrianRHA Futurity with this stallion after leading the Go round and eleventh at the NRHA Breeders Futurity Open.
Reserve Futurity Champion L4 was Dominik Reminder on Martin Bachmann's Got My Baileys (Wimpyneedsacocktail x Smoking Walla Wanda). The two scored a 228. With Got My Bailey,s Reminder was third at the European Futurity.
Tomas Martinek claimes Intermediate Open Futurity Championship
Tomas Martinek and Call Me Lil Josie (Lil Joe Cash x Call Me N Hollywood) claimed the Intermediate Open Championship and were third in L4 for owner Wolfgang Hammer. The mare bred by Sergio Elia scored a 224.5. "Wolfgang bought Lily, as we call her, as a yearling at the Sale," says Tomas Martinek. "She is one of the nicest horses I ever trained and showed. Very easy and laid back. She made it very easy for me in the final. It was real fun!"
Intermediate Open Futurity Reserve Champion was Pierluigi Fabbri aboard Hurricane Jaba (Broadway Jaba x Lydiah Chex), who scored a 222 for owner Igor Rozman. The gelding was bred by Az Ag Piero Pollarini SRL.
Daniela Saupe & Smart N Surprising: Futurity Champion Limited Open and L1, 4-year-old horses
With a 220.5 Daniela Saupe and her Smart N Surprising (Smart Spook x Just Miss Enterprise) took the lead in the finals of the AustrianRHA Futurity Limited Open and L1. "He was already fantastic in the preliminaries and wanted to do everything right," says Daniela Saupe. "We bought him as a yearling and from the start, it was obvious that he would be a great horse. He has excellent manoeuvres, especially the spins are great. I thank Helmut Schulz and his team for this show. I love this facility and this show – everyone loves it." With Smart N Surprising Daniela L1 was Open Champion of the European Futurity 2019 and Michael Saupe rode him to IRHA Futurity Reserve Champion in the L1 in 2018.
Reserve Futurity Champion Limited Open with a 219.5 Giovanni Masi de Vargas with Mariangela Di Pierro's Bugs At Nite (Gunners Special Nite x Scats Ebony Shiner). The stallion bred by Sheryl A Kaefer was 2019 NRHA European Futurity Champion Open L2 and 2018 seventh in the Breeders Futurity. In L1 the Reserve Futurity Champion title went to Levin Ludwig on Hans Isler's Einsteins Resolve (Einsteins Revolution x Charleys Smart Miss). After the L1 Go round, the two had already finished 2nd and achieved an outstanding 218.5 in the final.
Wolfgang Hammer claimes Non Pro L4 and Intermediate Non Pro Futurity, 4-year-old horses
With a 220, Wolfgang Hammer and his Chicago Lena (Smart Chic Olena x Bright Gun City) claimed the AustrianRHA Futurity Non Pro and Intermediate Non Pro Championship of the 4-year-old horses.. It was another great success for them this year. With Chicago Lena Hammer was already European Futurity Champion Non Pro L3 and L2 and Reserve Champion L4. Chicago Lena was bred by Sabine Schmid in Austria. "He is a super horse with a giant heart", says Hammer. "I bought him as a yearling because I liked his pedigree. Tomas Martinek started and trained him and did a great job. Chicago Lena makes it easy for you – both in the preparation and in the show. He's great!"
Futurity Reserve Champion L4 became AustrianRHA Futurity Champion Non Pro 2017 Sarah Ehrenreich on Gunners Special Gal (Gunners Special Nite x Dun Pretty Nifty). The Palomino mare with whom Sarah was seventh in L3 of the NRHA Futurity Non Pro 2018 scored a 218.5th Intermediate Non Pro Futurity Reserve Champion with a 218.5th Veit Ostermeier aboard his Burnin Down Da House (Great Sun Burst x Whiz And Charm).
Futurity Non Pro Champion L1, 4-year-old horses: Veit Ostermaier & Burning Down Da House
In the final of the AustrianRHA Futurity Non Pro L1 of the four-year-old Sara Karasova and her KH Yankee Step very early set the bar on a 215, and it remained with her until the penultimate starter: Veit Ostermaier. Aboard his gelding Burnin Down Da House (Great Sun Burst x Whiz And Charm), Ostermaier had already achieved a 215 in the Go round and was thus on 2nd place. In the final, the two were able to improve again: 215.5 was the judges' verdict and that meant the Futurity Champion title in the L1 Open for the German squad rider of the Young Riders. Burnin Down Da House was bred by Martina Sgarzani. "I bought him when he was two years old and trained him myself," says Veit Ostermeier. "He has done very well and is especially good in the spins and on the circles. I thank Dominik Reminder for his support".
Futurity Reserve Champion was Czech Kara Sarasova with her KH Yankee Step (Rowdee Yankee x Step A Little Closer, 215).
Open Trophy won by Gennaro Lendi, Non Pro by Ulrike Krüger
Besides the Futurity classes, there was again a big NRHA show which culminated in an Open and Non Pro Trophy. The Open went to FEI World Champion Gennaro Lendi and Eyal Carmons Xtra Black Fantasy (Wimpys Little Step x Footworks Fantasy) who scored a 220.5. With the black mare Lendi was already third in the SBH 5 & under Open at this Futurity. Fabi Cestari placed second aboard Katharina Schweitzer's Tarismart (OT Taris San Peppy x Smart Ladybug) scoring a 217.5.
Ulrike Krüger and her 7-year-old Palomino mare SL Shesgotmeparklin (Jacs Electric Spark x Shes Customized) won the Non Pro with a first-class run. 222 was the well-deserved reward for an outstanding round. Ulrike, who has been training with Bernard Fonck for several years, bought the mare at the age of 1 1/2 and started and trained her herself. They were IRHA Derby Non Pro Champion L2 2017, NRHA Germany Bronze Trophy Non Pro 2017 and 2019 NRHA Breeders Derby Non Pro Champion L4. Reserve champion was Julia Gaupmann-Lechner with her 6-year-old Guns Still Smokin (High Shootin Gun x Smokin Arica) who scored a 219.
The National Reining Horse Association is not responsible for information contained in this press release. Please contact the author or submitting organization for further information, requests or questions.