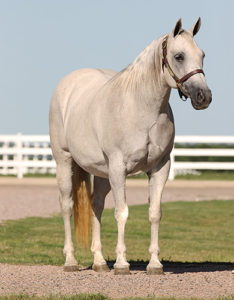 For Immediate Release – June 24, 2019 – Oklahoma City, Oklahoma – Since its inception in 1966, the National Reining Horse Association (NRHA) has seen just one mare whose offspring have earned one million dollars. After the completion of the 2019 NRHA Derby Open Saturday night, the NRHA Million Dollar Dam list unofficially grew to two horses when Dun It For Chex's offspring earned her enough to unofficially make her the second NRHA Million Dollar Dam.
The 1996 mare is by NRHA Hall of Fame Inductee and Six Million Dollar Sire Hollywood Dun It and out of Silver N Blue Chex. Dun It For Chex is owned by Cardinal Hill Training Center, LLC, an NRHA Corporate Partner, based in Aubrey, Texas.
Just last year, Dun It For Chex was inducted into the NRHA Hall of Fame for proving herself outside of the arena in her breeding career. She has produced some of today's most recognizable reining horses—both for their competitive success and their flashy coat colors. Her offspring have unofficially earned more than $1,002,600 in NRHA competition, rolling her up to second place on the NRHA leading dam list, behind the first NRHA Million Dollar Dam, Ebony Shines.
To date, Dun It For Chex has produced more than 20 foals with NRHA earnings, including two with more than $100,000 in NRHA Lifetime Earnings (LTE) each. These foals have earned top finishes at the NRHA Futurity and Derby, the FEI World Equestrian Games™ (WEG), and the National Reining Breeders Classic (NRBC).
Before the NRHA Derby this past week, Dun It For Chex was around $25,000 shy of crossing the million-dollar mark. Two of Franco Bertolani's mounts—Cardinal Hill Training Center's Masked Gun and Dun It For Whizkey—bumped the mare's offspring earnings up by $3,000 ($2,000 on Dun It For Whizkey and $1,000 on Masked Gun) during the Open Derby go-rounds. Non pro Michael Garnett and Hollywood Nites pushed her just under $14,000 shy of the million-dollar mark on Friday night during the Derby Non Pro Finals. Dun It For Chex's Masked Gun and Dun It For Whizkey also had great performances in the NRHA Open Derby finals Saturday night with Bertolani at the reins moved the elite mare past the NRHA Million Dollar Dam mark.
Dun It For Chex's most notable offspring include:
Dun It For Whizkey (by Topsail Whiz): NRHA LTE of $231,017
Starbucks Sidekick (by Smart Starbuck): NRHA LTE of $197,529
Masked Gun (by Gunner): NRHA LTE of $80,620
Hollywood Nites (by Gunners Special Nite): NRHA LTE of $83,790
Wranglin In Chex (by Starlights Wrangler): NRHA LTE of $70,599