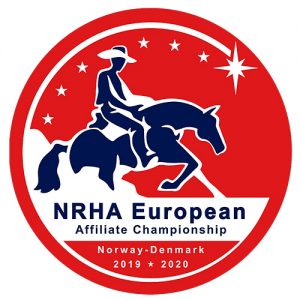 2019 NRHA European Affiliate Championship – Tuse Creek Ranch, Regstrup/Denmark – July 16-2The 2019 and 2020 NRHA European Affiliate Championship, managed by the Norwegian Reining Horse Association NRHA.NO and the Danish Reining Horse Association NRHA.DK, will be hosted in Denmark at the Tuse Creek Ranch facility.
Regstrup, June 29 — Provided by Simona Diale — Founded in 1994, the beautiful ranch is a center for western disciplines offering AQHA/NRHA/FEI shows in the Scandinavian region which include the Danish Championships, Derby and Futurity. The new 40 x 80 meter Mega Arena, offering seating to spectators, was completed in 2017 and special care was dedicated to the ground, specifically for reining. The restaurant provides a view to the show arena and a 26 x 92 meter warm up pen, with covered access to the main arena and to the stables, makes showing in Regstrup all the more functional. Welcoming riders will be the great staff — with over 20 years of show experience — captained by Show Manager Tony Llarena, Show Secretary Heidi Nørbæk, and ranch owner Jette Ceglarek who will be the stall manager and contact.
The NRHA EAC will offer $23,800 added money in EAC classes and each champion will receive a saddle along with trophies and plaques, according to the class. The Tuse Euro Slide and a full slate of NRHA approved classes will also be offered with a total of $21,900 added money. To view the full list of classes offered, entry form, and fees please click here
To download the schedule, click here
Livescore and livestream will be provided during the show.
COMPETITION, FAMILY & FUN
Camper area: Camping and truck parking facilities on 8 acres. Rental caravans are available.
Lodging: Tuse Creek Lodge offers rooms for rent at the ranch. Hotels, Bed & Breakfast and restaurants are within a short drive (7 km) in the town of Holbaek.
Stalls: 70 permanent stalls are available as well as a big area for tent stalls. Security is provided.
Fun: Parties, dinners and entertainment will be organized in the true Scandinavian way.
The onsite restaurant saloon is run by a professional cook and offers tasty and healthy food. Special arrangements have been made with restaurants in the area for those taking part in the NRHA EAC.
Location: The facility is located 4 km from the main highway, with excellent road links to the rest of Europe and is 70 km from the major airport of Copenhagen and 7 km from the train Station in Holbaek.
Weather: The Weather in July in Denmark is normally sunny, and about 20 – 25 degree.
QUALIFYING PERIOD:
The qualifying period is January 1, 2018 – December 31, 2018 and, for the 2019 Championships, an additional qualifying period from January 1st of 2019 through 45 days prior to the start of the Championships. These riders will be added to the qualifiers list that consists of the riders qualifying in the year of 2018.
TO VIEW THE AFFILIATE STANDINGS QUALIFICATION LISTS
MEDIA CONTACT: Simona Diale, International Horse Press
Cell: +39 340 5354629
Email: internationalhorsepress@gmail.com
For further information please visit https://www.nrha-eac2019-20.com/