2019 NRHA Convention & Awards Banquet Photos Available for Purchase: View Now
---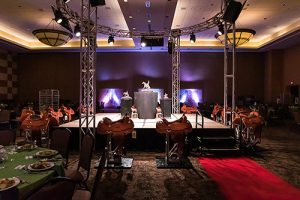 2019 NRHA Convention & Awards Concludes in Oklahoma City
For Immediate Release – February 25, 2018 –  Oklahoma City, Oklahoma – The fourth annual National Reining Horse Association (NRHA) Convention & Awards Banquet concluded February 9. After four days of education, constructive discussions, and networking, the event was deemed a success. The convention started with meetings of the NRHA Executive Committee and NRHA Board of Directors, which set a productive precedent for the remainder of the week.
The NRHA Board of Directors conducted their first review of the proposed rule changes for 2020, received an update on the 2019 European Summit held earlier this year, and enjoyed a presentation about the Interscholastic Equestrian Association (IEA). NRHA Directors approved new deadlines for both Hall of Fame nominations, now May 31, and elections, more about which can be found here.
Other items of discussion included:
Approval of a change in the Affiliate Regional Championship (ARC) open class which will base qualification on horse/owner combination and designation rather than horse/rider combination and designation.
Addition of Prime Time Rookie to the ARC and North American Affiliate Championship (NAAC) class list.
Alterations to the European Nomination Program conditions were endorsed, changing the monies allocated in the European Futurity and Derby to a 40/30/20/10 (L4/L3/L2/L1) ratio starting with 2020 events.
Sanctioning of 2019 Election procedures and deadlines, with the following positions up for election: director-at-large on the executive committee and director for the South Central, North Central, Northeast, Northwest, and East Central regions. The first affiliate nomination deadline is July 1.
Authorization of updates to the Youth Incentive Award Program to allow correspondence with the current NRHA Youth age splits of 14-18, 13 & Under, and 10 & Under.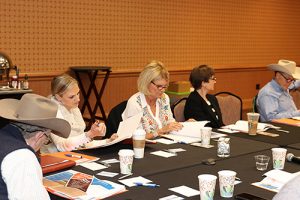 The Annual General Membership (AGM) meeting on Friday morning allowed NRHA President Mike Hancock, Commissioner Gary Carpenter, and other members of NRHA's staff to share their outlook for the future in light of 2018's successes. After watching Hancock receive the president's gavel from NRHA Past President Mike Deer, attendees received updates on the Reining Horse Foundation (RHF), NRHA financials, and the strategic plan.
"We had a great Board of Directors meeting! The Committee meetings were well attended and there were good discussions among all that were present," Hancock said. "To end it all, we were able to celebrate a successful year with exhibitors, owners, and breeders."
Friday and Saturday also included many committee meetings which facilitated productive discussions and contribution of ideas to continue improving the sport of reining. Well-attended Eligibility and Aged Events Committee meetings, both held on Friday, included constructive dialogue regarding a recent eligibility survey, eligibility levels, and the 2019 NRHA Futurity dates.
Proposed rule changes were discussed in each committee meeting separately. Each committee can send recommendations to the board of directors who will review and vote on these rule changes at their next meeting in April.
On Saturday morning, NRHA Professionals attended the Professionals Summit where guest speaker Jamie Samples of Yellow Barn Media outlined some ways reining trainers and other equine professionals can boost their marketing efforts. The professionals also discussed new ways to raise money for the RHF Crisis Fund and give back to the reining community.
Saturday's schedule also included the NRHA Judges Summit where committee members reviewed Futurity judge statistics, watched several runs from the 2018 Futurity, and boosted their education by judging one run together.
Saturday night concluded with a star-studded celebration as the 2018 NRHA world champions and other award recipients were honored for their achievements during the 2018 season.
NRHyA Leadership Summit
The 2018 NRHA Youth Leadership Summit took place in conjunction with the NRHA Convention & Awards Banquet. Kelly Barnes served as the facilitator, where he challenged youth members to grow as leaders in the reining industry. Summit attendees, including all five 2019 NRHyA Officers and several other members, participated in three sessions of workshops where they gained skills to help them grow in not just reining, but outside of horses in all aspects of life.
2020 Rule Change Proposals can be found under the Members Only section on NRHA.com. Current NRHA members are encouraged to leave comments regarding the proposals. The commenting section will be open through April 1.