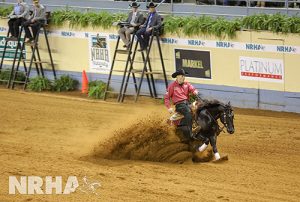 For Immediate Release – December 1, 2018 – Oklahoma City, Oklahoma – The 2018 National Reining Horse Association (NRHA) Open Futurity Finals featured a field 70 horses deep across the four levels and prime time division. At the end of the night after the last score had been announced, NRHA Million Dollar Rider Jason Vanlandingham, riding A Vintage Smoke for owner Diane Mesmer, secured the title of 2018 NRHA Open Level (L) 4 Futurity Champion [video].
A Vintage Smoke, nominated by Karl Hapcic, is by NRHA Million Dollar Sire A Sparkling Vintage and out of Lady Smoke Peppy. "I had been struggling with  some things this week. I thought my turns went as good as they could be. In the warm up pen, he was really locked in and gave me a ton of confidence," said Vanlandingham. He went on to add, "I went for it all and ran him through the gate as hard as we could run, and he swallowed that first stop up." A Vintage Smoke earned $142,500 for his owner and $7,500 for his nominator.
Isnt She Perfect and rider Kole Price took home the L4 Open Reserve Championship. Isnt She Perfect is by NRHA Two Million Dollar Sire Walla Walla Whiz and out of Miss Silver Gun. She is owned by Amy Meadows and nominated by Tamarack Ranch LLC. The owner's and nominator's share of the purse was $130,352 and $6,518, respectively.
Winning the L3 Open division, Prime Time Open, and Prime Time Open Reserve Championship was NRHA Million Dollar Rider Mike McEntire aboard two similar named horses. McEntire rode his first draw, Pale Faced Whiz (NRHA Million Dollar Sire Pale Face Dunnit x Ms Maggie Whiz), for owners A4L-Equine to a score of 218 ½ to win the title of Prime Time Open Reserve Champion and a top ten finish in the L3 Open division. Pale Faced Whiz is nominated by Ginger Schmersal.
McEntire's second draw, Pale Face Whiz, slid to a score of 222 ½ earning the duo the title of Open L3 Champion and Open Prime Time Champion, as well as more than $87,000 in owner and nominator earnings [video]. The sorrel stallion is by Pale Face Dunnit and out of Lady Naskiia Whiz. He is nominated by Everett Wiggins and owned by Everett and Karen Wiggins. "It felt good; the horse has been so good all week. He has stayed real solid," said McEntire when asked about his run on Pale Face Whiz.
Earning the L3 Open Reserve Championship was Vintage Jewels and NRHA Million Dollar Rider Dell Hendricks. Vintage Jewels, owned by Kristi Clark, is by A Sparkling Vintage and out of Jewels Lil Sparkle and nominated by Todd Vernon.
Riding to the L2 and L1 Open Futurity Championship was Austin Lee Roush and Gunna Stop (NRHA Two Million Dollar Sire Gunnatrashya x Stop Little Sister) owned by Alexandria Gokey and nominated by Toyon Ranch LLC [video]. "I felt pretty confident. Both of my horses rode good for the whole horse show. I was ready to show today," said Roush when asked about his run.
Tying for the L2 Open Reserve Champion was Smokin Paleface (Pale Face Dunnit x Lost In Tinseltown) with Brent Naylor, and Mr Royal Hollywood (NRHA Million Dollar Sire Hollywoodstinseltown x Cee Miss Hollywood) with NRHA Million Dollar Rider Cody Sapergia. Smokin Paleface is owned and nominated by Tim Anderson. Mr Royal Hollywood is owned by George and Carol Bell and nominated by George Bell.
Tinker This and Thiago Sobral earned the L1 Open Reserve Championship for owners Mary Beth and Tim Ruckman. Tinker This is by Tinker With Guns and out of Tejons Finally Dunit and nominated by Silver Spurs Equine.
Record-Setting Payout
The 2018 NRHA Open Futurity witnessed the second largest purse in the event's history with nearly $1.5 million awarded Saturday night. Additionally, there was an 8% increase in horses entered (399) and 14% increase in total entries (1,124).