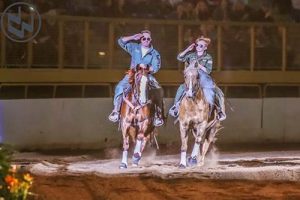 The National Western Stock Show (NWSS) is pleased to announce the creation of the National Western Youth Freestyle Reining Showcase. This event will provide local youth within the equine industry an opportunity to showcase their talents in freestyle reining and be recognized during a prestigious event at the National Western Stock Show. Selected youth will perform prior to the $20,000 RAM Invitational Freestyle Reining on Sunday, January 13, 2019.
Interested youth must be a Colorado or Wyoming resident between 14 – 21 years of age and will be selected based on the procedure for the $20,000 RAM Invitational Freestyle Reining. They will submit a completed application and a short video showing the horse/rider pair's potential for a freestyle reining performance no later than September 30, 2018. Riders must have a current NRHA membership card and horses must have a current NRHA license to be considered. Selections will be based on quality, talent, creativity and entertainment.
More information, details and application are available on the NWSS website: http://www.nationalwestern.com/horse-shows/horse-exhibitors/. Follow our page on Facebook @NWSS Horse Exhibitors for the latest news and announcements.
Provided by:
Horse Show Department | National Western Stock Show
horse@nationalwestern.com
4655 Humboldt St.  Denver, CO 80216 | O: 303.299.5525 | F: 303.292.1708
The National Reining Horse Association is not responsible for information contained in this press release. Please contact the author or submitting organization for further information, requests or questions.