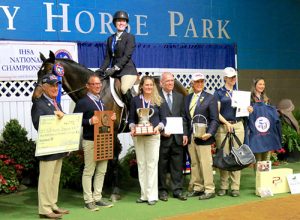 Winner of the 2017 USEF/Cacchione Cup Katherine Steiner from Centenary University with coaches Michael Dowling and Heather Clark, Bill Maroney and Bob Cacchione. Photo by Tyler Van Velsen
Fairfield, Conn. ­– April 13, 2018 –  Young equestrians from across the U.S. and Canada are set to compete at the 2018 Intercollegiate Horse Shows Association (IHSA) National Championship at the Pennsylvania Farm Show Complex in Harrisburg, Pennsylvania, May 3-6. The event will feature 450 men and women hunter seat and Western collegiate riders of all levels in divisions from Walk-Trot through Open. The contenders have competed throughout the season to qualify to take part in the National Championship.
During Nationals, of which the National Reining Horse Association (NRHA) is a platinum sponsor, the top contenders will vie for team, individual and alumni championships in their divisions. The event features the coveted USEF/Cacchione Cup and the AQHA Western High Point Rider national final.
Former winners of the USEF/Cacchione Cup include four-time Olympic medalist and 2013 FEI World Cup Finals champion Beezie Madden, Olympic gold medalist Peter Wylde, top horseman and trainer James Fairclough II, renowned hunter trainer Daniel Geitner and top equitation rider Chase Boggio. Olympic silver medalist Greg Best was a USEF/Cacchione Cup reserve champion.
Previous notable AQHA Western High Point Riders include AQHA Youth World Cup Reining champion and many-time AQHA Congress Reining champion Trevor Dare,  World Champion NRHA rider and many-time winner of the NRHA Derby Austin Griffith,  Jared Leclair, reserve champion IHSA AQHA Western High Point Rider and IHSA Individual Reining champion and winner of many significant reining championships.
Fast Facts
What: Intercollegiate Horse Shows Association National Championship
When: May 3-6
Where: Pennsylvania Farm Show Complex, Harrisburg, Pennsylvania
Media credential contact:
Carrie Wirth
EQ Media
carrie@EQmedia.agency
(612) 209-0310
2017 AQHA High-Point Rider Brittany Abernathy with Bob Cacchione, Northeast Oklahoma A&M University coach Amber Burrows and Cailin Caldwell from AQHA. Photo by Tyler Van Velsen
The IHSA was founded in 1967 by Robert Cacchione while he attended Fairleigh Dickinson University in Teaneck, New Jersey. The organization was established so that any full-time college student could participate in equestrian competition regardless of economic status, gender or riding level and offers Hunter Seat and Western competition at eight levels from Walk-Trot through Open divisions for both male and female college athletes. The IHSA emphasizes learning and sportsmanship and fosters teamwork. The organization has grown to include 400 member teams and 10,000 members encompassing 39 Regions, 8 Zones and 45 states and Canada. College or university teams, individuals, alumni and coaches may become members.
For more information go to IHSAinc.com or contact media@IHSAinc.com
The National Reining Horse Association is not responsible for information contained in this press release. Please contact the author or submitting organization for further information, requests or questions.