2018 German Breeders Futurity Results
October 6-13 – Kreuth, Germany
Gennaro Lendi and Colonels Dancing Gun Outshine and Conquer the Open Breeders Futurity Championship 
Carlo Ambrosini and Saturdaynight Tag top the Non Pro Futurity
Kreuth, Germany – Provided by Simona Diale / NRHA Germany – The NRHA Germany Breeders 4-year-old Open and Non Pro Futurity finals matched the weather in Kreuth: Beautiful.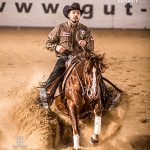 A repeat of the 3-year-old Snaffle Bit Futurity, the 4-year-old Open Bit Futurity kept the [over 3,000] spectators glued to their seats until the very last horse-rider-combination: Gennaro Lendi and Colonels Dancing Gun. Aboard the stallion by NRHA Ten Million Dollar Sire Gunner out of Dance Little Spook, owned and bred by Quarter Dream Srl, the Italian professional, with a 228 score to beat, performed all the maneuvers outstandingly and, once he closed his run, a 231 appeared on the score board.
"I truly felt the pressure when I walked in the arena but tried to leave that feeling in the warm up pen," said Lendi who in April also conquered the 2018 NRHA European Futurity Open Championship with his mount. "This is a great horse with a lot of potential. I tried to concentrate completely and when we concluded with his last incredible stop, I knew we had marked what we needed to top the competition. I would like to thank all my team and Pietro [Marseglia] for being such a phenomenal owner. In this moment, my thoughts go to the amazing horses who lost their lives on the road at the end of September. This victory is dedicated to them and to their owners."
Reserve honors went to German Dominik Reminder who posted the 228 to beat riding Call Me Mr Voodoo (Shiners Voodoo Dr x Arc Sassy Snapper), a stallion owned and bred by Elisabetta Zoccorato. "My horse was incredible tonight and I cannot hide the fact that although I am truly happy with this result and with the way he showed … I would have been happier had we won — it's the name of the game!" said Reminder with a smile.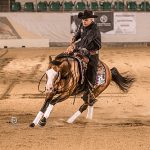 L3 – HA Handsome Harry and Kronsteiner
NRHA Million Dollar Rider Rudi Kronsteiner conquered the highest spot of the podium in the L3 division with HA Handsome Harry between the reins. The stallion by NRHA Million Dollar Sire Spooks Gotta Whiz out of Chic Peas, owned by Bernice Engel and bred by Hillis Akin Family Partnership, and the Austrian rider in the saddle performed to a 226.5. "I got this horse in training at the beginning of the year and he's been good from day one. Winning this title is great but what makes the outcome of this show even sweeter is the fact that Carlo [Ambrosini] took home both the level 4 and 3 Non Pro championships," said Kronsteiner, head trainer for Ambrosini Quarter Horses, Italy. "We came here with 12 futurity horses and made the finals with 10 … I'm really happy!"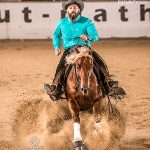 L2 – Shine Lil Whiz and Oliver Stein
Taking the L3 reserve championship as well as the L2 championship with a 218.5 was German Oliver Stein who rode Shine Lil Whiz (Topsail Whiz x Lil Wanda), a stallion owned and bred by Silke Stein. "I'm really happy with the way this horse my wife and I bred went here tonight," said Stein. "In the qualifier he stumbled but we managed to make the finals and this result is great; I trained and rode his mother, who was really an easy horse to show, and he has taken quite a few traits from her which is great!"
Fellow country man Alexander Ripper closed his ride a half-a-point behind aboard Will Work For Guns (Gunner x Fabulous Footwork). He took home the reserve championship aboard the stallion owned by Dalila Okbani-Machs and bred by David Silva Jr.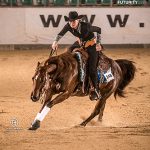 L1 – Cee U In Tinseltown and Petra Van Ede
Dutch Petra Van Ede rode Cee U In Tinseltown (Hollywoodtinseltown x Miss Wimpy Hollywood) to the L1 Championship for owner and breeder Gisela Haas with an outstanding run worth 221. "I love this mare so much and, considering the fact that a bobble in the qualifier kept us out of the other levels, winning the level 1 is just great," said Van Ede. "This is the last show of the year for us so closing with this results is special." The reserve championship, with a 213, went to Elias Ernst of Germany riding Painted Star Partners' Valentine Nite (Gunners Special Nite x Mi Mega), a mare bred by John Covington.
Carlo Ambrosini and Saturdaynight Tag top the Non Pro Futurity
Carlo Ambrosini and Saturdaynight Tag (Saturdaynight Custom x Kachina Tag), last to enter the Ostbayernhalle arena in the Non Pro Futurity seeded finals, captured both the L4 and L3 NRHA Germany 4-year-old Futurity Championships with an amazing run worth a 221 score. The gelding, bred by Ambrosini Quarter Horses, and his rid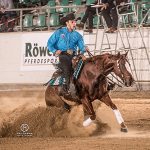 er also have the 2018 NRHA European Futurity L4 and L3 Championship under their belts. "My parents gave this horse we bred for my 17th birthday so bringing home this second important title this year is pretty amazing," said Ambrosini. "I really wanted to go in and win because I knew we could do it — when I heard our score I was thrilled. A special thank you goes to all the Ambrosini team, my girlfriend Francesca, my best friend Andrea Pedrotti, to my parents and to my trainer, Rudi Kronsteiner. I could not have done this without them all."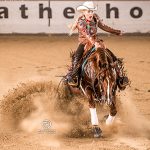 L2 & L1 – Stephanie Blessing-Kuenzli and RB Lil Ruf Two
Ambrosini had a score to beat; the 217 posted by Stephanie Blessing-Kuenzli aboard her RB Lil Ruf Two (Lil Ruf Poco Peppy x GP Amelia Pocodo), a stallion bred by Thomas Kühnel. The Swiss rider settled for reserve honors in both the L4 and L3 and celebrated her win in both the L2 and L1 divisions. "This is a pretty cool and special horse that I've had since the beginning of the year," she said. "I came here with the goal of trying to bring home a championship because I knew he could do it. I am thrilled with these titles."
Tying for reserve honors in the L2 with a 213.5 score were Germans Pia Borgwald and Sharpshiner (Sharp Dressed Shiner x Walla Wanda Whiz), a gelding bred by Pia Kalle, and Andreas Dick riding A Shining Gun (Shine My Gun x Lady Buena Freckles), a stallion bred by Maile/Ludwig. The latter also took reserve honors in the L1 division.
Youth – Georgia Wilk and ND Kit Kat Spark
Claiming the NRHA Germany Bit Futurity Youth Championship with a 210.5 was 16-year-old Georgia Wilk of Germany aboard her ND Kit Kat Spark (Jacs Electric Spark x ND Miss Sailor Jac), a mare bred by Nathalie Derua. The young rider purchased the mare as a yearling and broke and trained her herself. A few months prior to the Futurity, Wilk and her mount rode under the guidance of Guy Zemah, head trainer for La Mesa Performance Horses LLC. Reserve honors went to Julia Boppelar, also of Germany, who reined Helga Boppeler's Hollywood Shiningboy (Sharp Dressed Shiner x Dun Spun Around), a gelding bred by La Mesa Performance Horses LLC., to a 205.5.
Bernard Fonck soars and reins Spook Sunburst to the NRHA Germany 3-year-old Open Breeders Snaffle Bit Futurity; 
Anita Ernst sweeps the Levels 4, 3and 2 Non Pro Championships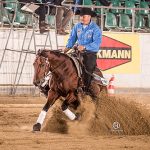 With a whopping 228 score, Bernard Fonck and Spook Sunburst (Great Sun Burst x All About Spook), a gelding owned by Koen Symoens, claimed the Level (L)4 Open NRHA Germany Breeders Snaffle Bit Futurity Championship. Last to enter the Ostbayernhalle arena, the NRHA Million Dollar Rider had to beat the 225.5 scored by Cira Baeck aboard David Perneel's NF Shining Whiz (Colonels Shining Gun x Whowhizthispeppychic).
"My intention was not to lay down that kind of run, but he was there for me, he's an incredible athlete, and I knew that I could ask and he would deliver," said Fonck about the gelding bred by Manuel Bonzano. "He reminds me so much of his sire [Great Sun Burst] who I won so much on, and I know exactly what buttons to push!" Just as enthusiastic was owner, Symoens, who has been involved in Belgian western riding first, and then reining, since 1985.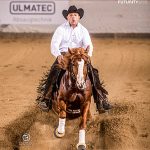 Baeck, who qualified all three of her mounts for the finals, was enthusiastic about her evening. "I'm so happy with the way all three of my horses performed tonight," she said. "They are all great and did so well for me. The level of competition here was really high and it's great for our sport."
L3 – I Am Charlie and Emanuel Ernst
In the L3 division Emanuel Ernst riding I Am Charlie (Gun Chic Nic x DP Nicatrash) took top honors after performing to a 224 score for owner Jacqueline Seger.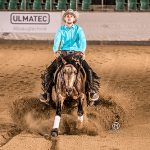 L2 & L1 – Einsteins Resolve and Levin Ludwig
Winning the L2 and L1 divisions with a 221 was Levin Ludwig aboard Hans Isler's Einsteins Resolve (Einsteins Revolution x Charlys Smart Miss).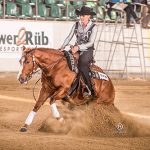 Non Pro Snaffle Bit Futurity – Anita Ernst BH Salin Withatwist
Anita Ernst and her own BH Salin Withatwist (Sailin Playboy x BH With A Twist) took top honors in the Levels 4, 3 and 2 NRHA Germany 3-year-old Snaffle Bit Breeders Futurity Championships. Draw 28 in a field of 29 finalists, the German rider thrilled the crowd and the judges with her run worth a 219. "Winning on a mare that we bred is the best thing that could ever happen. It was a tough final and I could not be any happier," said Anita. Making the win even sweeter was the L3 Open Snaffle Bit Championship her husband, Emanuel Ernst, claimed in the Open the same day. Tying for the reserve championship in the L4 were Andrea Pedrotti riding Saturday Big (Saturday Night Custom x Kachina Tag) and Maria Otten aboard The Spook Coop (Best Spook x Kaliz Golden Happily). Both riders closed their run with a 213.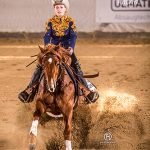 L1 – Kerstin Müller and Voodoowhiztictrick
The Level 1 Championship, as well as the L3 and L2 reserve championships, went to Kerstin Müller and Voodoowhiztictrick (Shiners Voodoo Dr x MP Huggamuggawhiz), a stallion bred by Susanne Duiker.
The NRHA Germany Breeders Futurity offers a 3-year-old Snaffle Bit Futurity and a 4-year-old Open Futurity. Over 300 horses made their way to compete in the prestigious Futurity as well as the full-slate of NRHA ancillary classes, German Equestrian Federation (FN) Senior, Junior and Young Riders, and NRHA Germany Championship classes.
Media contact: Simona Diale, International Horse Press
Cell: +39 340 5454629
Photos courtesy Tom Hautmann • Photo & Design
www.tom-hautmann.de
The National Reining Horse Association is not responsible for information contained in this press release. Please contact the author or submitting organization for further information, requests or questions.