For Immediate Release – January 19, 2018 – Oklahoma City, Oklahoma – Each year, the National Reining Horse Association (NRHA) members are invited to nominate their favorite NRHA Professional for top honors in one of the following categories: Professional Horseman of the Year, Professional Horsewoman of the Year, Non Pro Coach Of the Year, Youth Coach of the Year and Up-and-Coming Trainer of the Year. Below are the winners for each category, who will receive their award at the NRHA Convention & Awards in February.
NRHA Professional Horseman of the Year – Brent Loseke
Brent Loseke has been a member of NRHA since 1993. Originally from Nebraska, Loseke grew up on a pig, cattle and sheep farm, but ultimately fell in love with horses. Today, he and his wife, Paula, live in Valley View, Texas where they own and train reining horses and manage broodmares. During his involvement within NRHA, Loseke has had much success in the show ring as both an exhibitor and a judge.
Loseke has been an NRHA Professional since 2011 and has been said to be an avid proponent of horse wellness, which is exhibited in his work as a trainer, showman and breeder. No matter which role he is fulfilling at the time, Loseke is always involved improving reining quality in every aspect of the sport.
NRHA Professional Horsewoman of the Year – Josette Conti Kain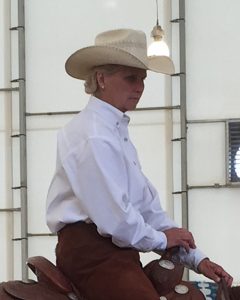 With more than thirty years within the industry, Josette Conti Kain has established herself as a respected, successful rider and trainer within NRHA. A member since 1991, Kain has been actively involved with NRHA at both the state and national levels. She is actively involved with her local affiliate, the Tri-State Reining Horse Association (TSRHA), serves as an NRHA Judge, and hosts reining horse clinics both domestically and abroad.
Kain began her career at Willow Brook Farms and eventually opened her own training facility—Josette Conti Performance Horses, where she trains and coaches horses and riders of all ages and levels. One of her clients had this to say about the NRHA Professional: "She inspires us all to do and give our best each and every time—not just in the show pen, but to ride better every time you step on a horse."
NRHA Non Pro Coach of the Year – Patrick Flaherty
Patrick Flaherty of Scottsdale, Arizona, has been said to be "passionate about the sport of reining." This is demonstrated through his service as an NRHA Judge, committee member, Arizona Reining Horse Association (AzRHA) involvement and show sponsorship. He also exudes passion each time he is in the show pen and boasts nearly $200,000 in NRHA lifetime earnings (LTE).
More importantly, Flaherty has coached numerous youth, open and non pro circuit champions and year-end winners. He "has a gift for teaching the art and skill of reining to all levels" and "works very hard to bring each client to their full potential." In addition to Flaherty's superior coaching skills, he also volunteers his time at rookie days and boot camps (for the Reining Horse Foundation), where he can share his knowledge and passion of the sport with others.
NRHA Youth Coach of the Year – Josiane Gauthier
Josiane Gauthier of Lucama, North Carolina, has been showing with NRHA since she was eight years old. Her "complete devotion to each client" is unsurpassed, which makes it no surprise that she has been elected NRHA Youth Coach of the Year. Her talent of "tuning into each client's strengths and weaknesses" helps her succeed in helping her young riders reach their full potential.
Gauthier not only excels in coaching but also in being a skilled rider in the show pen, boasting an NRHA LTE in excess of $416,000. She was a part of the team that represented Canada at the Alltech FEI World Equestrian Games™ 2014 held in Normandy, France. Gauthier has also had individual success at the All American Quarter Horse Congress and NRHA Futurity, and has had many students achieve accolades there as well—an exhibition of her premier coaching abilities!
NRHA Up-and-Coming Trainer of the Year – Barak Gibori
Barak Gibori became a member of NRHA in 2000 and has had much success in the industry as both a trainer and rider. After the 2017 NRHA Futurity and his success as a trainer for both McQuay Stables and Muehlstaetter Performance Horses, Gibori made the move back to Israel to open his own training facility and promote the sport of reining.
In addition to his training successes, Barak has recently begun to make a significant mark within the show pen. In 2017, Gibori was the National Reining Breeders Classic (NRBC) Level 1 Open Co-Champion on Pearl Haggard (Hollywoodstinseltown x Gunners Pearl). He and Pearl Haggard also won the 2017 Tulsa Reining Classic Level 1 Open Championship. With these wins under his belt, Gibori is sure to continue this upward trend of success as both a rider and trainer within the sport!
For more information about the NRHA Professionals program or to find a Professional to help with training or lessons, visit nrha.com/professionals.